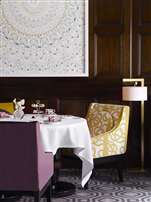 Grower Champagne has captured the imagination of many sommeliers in recent years, as is abundantly clear from the lists scrutinized at the World's Best Wine Lists awards. While this is a trend that the judges welcome, it doesn't mean there aren't other ways of building a fine sparkling list.
Equally worthy of respect, are those lists that are able to compile the best of the region's historically established Grandes Marques, a particularly fine example of which can be found at French chef Hélène Darroze's two Michelin-starred restaurant at London's The Connaught Hotel, which was shortlisted for the Best Champagne & Sparkling Wine List in Europe.
The grower movement is represented (in particularly fine examples from Jacques Picard and Jacques Selosse), but it is the considered selection of the best Champagne houses, including verticals of old vintages of their top wines, that captured our judges' imagination: from Pol Roger Cuvée Winston Churchill 1986, to Dom Pérignon Oenothèque 1971, and a fine run of Krug and Salon.
It doesn't stop there. That sense of discriminating classicism is also apparent elsewhere on a list that is strong in classic Europe but ranges widely, and which is as elegant and full of surprises as Darroze's superb contemporary French cuisine.
Head sommelier Daniel Manetti brings life and love to a fine list that draws upon the 1,200 or so labels in the cellar.