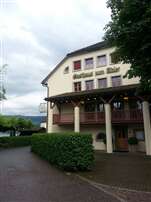 A fine selection of wines from the domestic industry brings plenty of personality to a well-balanced international list at Adler in the village of Hurden on Switzerland's Lake Zurich.
Taking in producers from across the country, the Swiss list ranges from Martha and Daneil Gantenbein's Pinot Noir to Jean René Germanier's Humagne Rouge and Luigi Zanini's Castello Luigi Bianco.
These local favorites are joined by a range of fine bottles from classic French regions that features big names such as Denis Mortet and Méo-Camuzet in Burgundy and a collection of first growth Bordeaux châteaux as well as a smattering of up-and-coming producers. Italy, Germany, California, Spain, and Austria are also well represented, while there are intelligent choices from Argentina and Chile, too.
Described by the judges of the World's Best Wine Lists 2015 as "well presented and thoughtful," the list at Adler offers plenty of scope for matching the creative fine dining of Markus Gas's Michelin-starred menu.