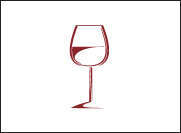 A delightful collection of German wines is the first thing that strikes the diner upon opening the wine list in the gourmet restaurant at Munich's Hotel Königshof.
Featuring extensive selections of top flight producers, including many older vintages, and from every German region, the Königshof German selection is full of interest, whether it's Egon Müller Scharzhof Sharzhofberger Riesling Auslese 1990 from the Mosel, or a range of fine Franken wines from Horst Sauer.
But the list is by no means confined to the domestic. There is a deep collection of classic French wines, among which Burgundy is a particular highlight, while the selections from Austria, Greece, and Italy are no less impressive, and there are fine choices from Spain, South Africa, and Portugal, too.
It's an international list with German accents that perfectly matches the impeccable gourmet menu, which features dishes such as fried goose liver with cream, rhubard, and cereal; and Bresse pigeon breast and leg, with green asparagus and tarte flambée.