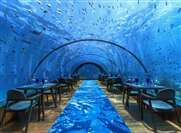 The search for elusive gastronomical heaven appears to be over; the spectacular 5.
8 restaurant dazzles and delights diners with a multi-course tasting extravaganza, garnished with a state-of-the-art location.
5.
8 is as much a culinary delight as it is an extraordinary design masterpiece—a combination that allows you to sate your appetite and dive into the pleasure of a view few restaurants in the world can afford.