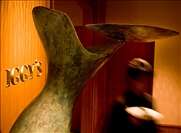 As you would expect from award-winning sommelier Ignatius "Iggy" Chan, Iggy's, now housed in Singapore's Hilton Hotel, is a restaurant that puts wine at the very center of its operation.
Chan is a self-professed Pinotphile, so the wine list he's created to go with cuisine that "incorporates ideas and ingredients from Europe, Asia, and Australia" is heavily loaded with red Burgundy from his favorite producers: Robert Chevillon, François Feuillet, Domaine de l'Arlot, Robert Groffier, Domaine Sérafin, and Domaine Trapet, each with a variety of vintages and crus.
These Pinots are joined by a well-chosen smattering of Bordeaux châteaux, and by Chan's pick of global producers, including Bass Phillip and Domaine A from Australia, Spain's Vega-Siclia, JL Chave from Hermitage, Mas de Daumas Gassac from the Languedoc-Roussillon, and Dom Pérignon and Jacquesson from Champagne. It's a focused list full of personality.