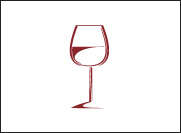 Praised by the judges at the World's Best Wine Lists 2015 for its "amazing breadth and length," the wine list at Rome's Il Convivio Troiani is comfortably one of the most impressive in Italy.
Somewhat old-fashioned in presentation, it's a hefty tome that requires an index to help diners negotiate its 160-plus pages of selections. But the time spent perusing its pages is worthwhile, since it offers a remarkable in-depth tour of Italian wine, from Franciacorta to Sardinia, as well as a number of intriguing, supplementary choices from France and the rest of the world.
Highlights include a Coravin-enabled fine wine by-the-glass selection that runs from Col d'Orcia Brunello Montalcino 1985 to A Conterno Gran Bussia Barolo Riserva 1997, and a broad selection of large format bottles. But the meat is the 75-cl selection, which is full of big and up-and-coming names and rare older vintages, a magnificent range of possibilities to pair with the immaculate modern Italian cuisine.