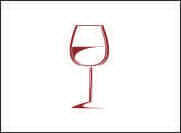 JetBlue, which launched its Mint premium cabin in 2014, serves five California wines that include a counoise, a rare varietal made from a grape native to the south of France.
The airline brought in a wine guru, Jon Bonné, as its in-house wine expert for its premium Mint passengers. Bonné, a veteran journalist who grew up around wine, is the wine editor at the San Francisco Chronicle and the author of the book "The New California Wine." He chatted with Fortune about the best way to enjoy a glass in the air.
The work of JetBlue and the California wine list offered in its Mint Class is exemplary in celebrating wines away from the mainstream. Gourmet meals are complemented by award-winning wines selected by champion sommelier, specially curated by wine expert Jon Bonné. Top selections include Birichino Malvasia and Turley's fruity Zinfandel on board for the debut menu.