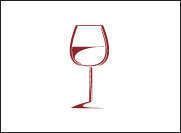 In Daylesford in the Macedon Ranges, Victoria, chef Kazuki Tsuya brings the "sensibility" and techniques of his native Japan to a menu based on the superb locally sourced ingredients.
That leads to stylish creations such as quail, pearl barley, pickled grape, and mushrooms; and duck breast, leg pie, turnip cake, and black bean.
And these are matched with a wine list that also harnesses the best of the local and other domestic wines with a range of interesting choices from around the world.
It's a superbly eclectic collection whose character is immediately apparent in the by-the-glass program, which includes new-wave Swartland Chenin Blanc from AA Badenhorst, Italian-inspired Australian in the shape of Sam Miranda Barbera from King Valley Australia, and grower Champagne from Henri Giraud.
And the full-bottle list picks up the theme, with wines from Japan (Alps Wine Type R Blanc) and superb New Zealand Pinot Noir and Riesling from expat Japanese Kusuda, among others, taking their place alongside a fine range of Victorian bottles.