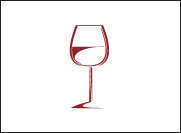 One of San Francisco's finest restaurants, Keiko Takahashi's Keiko à Nob Hill offers immaculately presented, precise, and vivid dishes in the form of a single nightly menu.
Featuring 13-to-15 courses, it's an expression of Takahashi's France-meets-Japan style, based on impeccable ingredients such as fish from Tokyo's Tsukiji fish market and A5 Wagyu beef.
Among the exquisite creations on offer are Hokkaido uni capellini with caviar, "Sakuramasu" wild cherry trout, and A5 Wagyu with yuzu-soy foam and honwasabi.
These dishes are presented with choices from Takahashi's remarkable 5,000-bottle wine cellar, and the judges at the World's Best Wine Lists were deeply impressed by a collection that takes in many superb, mature wines from classical European regions, including many of the great names of Bordeaux and Burgundy.
There is an option to buy either a "Grand wine pairing" for each dish at $138, or "The Magnifique" for $295. Both feature fine choices, but for something truly remarkable, the latter, despite the price, is worth saving up for.