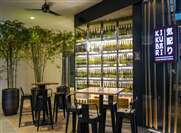 Kikubari serves progressive Japanese cuisine, headed by Chef Jun Wong, who has spent years working in prestigious restaurants in Macau, Tokyo and Sydney.
Chef Jun, together with her crew of young chefs, holds dear to her philosophy of creating dishes that respect the integrity of quality ingredients and instil sustainable practices in her kitchen.
Young and sophisticated local talent, Danny Tai, joins him to build a wine list that is producer-driven and displays a deep respect for terroirs.