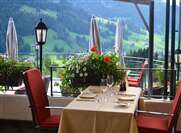 At an altitude of 1,100 meters (3609ft), La Bagatelle restaurant offers spectacular views of the surrounding Swiss mountains, ski slopes in winter or sprawling hiking trails in summer, and the picturesque village of Gstaad below.
As well as the restaurant location, the wine list has reached great heights. To say the selection was large would be an understatement, with around 900 different wines and over 15,000 bottles stocked in the chalet's magnificent cellar. As co-director and wine-enthusiast Pedro Ferreira said, "anybody who comes to the Grand Chalet will find the right wine for their budget – and always in the right quality". The program is well grounded in Europe, and the sections on Burgundy, Rhône, Bordeaux and Italy are particularly strong. Printed on handmade Himalayan paper, the wine list provides an experience and promises excellence, described by the judges of the World's Wine List Awards 2017 as being "very classic".
Staying true to its Swiss roots, the wine choices from Switzerland are excellent, and perfectly match the regional specialties featured on head chef Steve Willié's fresh and seasonal menu. Diners can expect classic French or Swiss dishes, such as veal tongue, air-dried ham or sweetbread-oxtail ravioli.