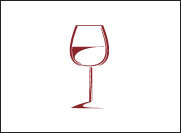 Intriguingly arranged by vintage rather than producer, the list at Copenhagen's La Buca degli Artisti betrays a deep love of Italian wine.
The great reds of Piedmont are particularly well represented, with an engaging collection of both Barbaresco (back to a magnum of Ceretto Bricco Asili 1978) and Barolo (featuring the likes of Altare, Aldo and Giacomo Conterno, La Spinetta, and Bartolo Mascarello), while Tuscany's Brunello di Montalcino and the Veneto's Amarone della Valpolicella are covered in similar depth.
But there are intelligent choices from throughout the country, whether it's producers such as Sicily's Cos or Friuli's Vie de Romans, or grape variety's such as Val d'Aosta's Petite Arvine or Campania's Fiano.
These Italian selections are joined by succinct selection from the rest of Europe, with Burgundy a definite strength. And the result, as the judges at the World's Best Wine Lists 2015 put it, is a "smart focused list" well-suited to a modern Italian menu that puts the emphasis on quality ingredients.