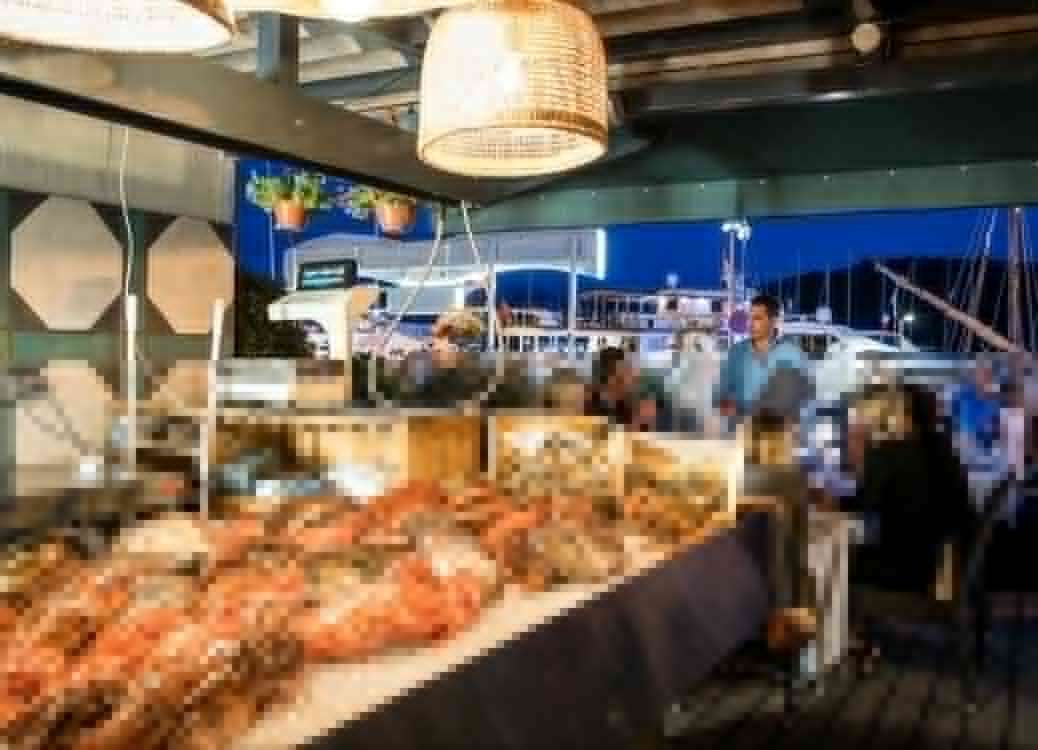 "From the sea to your plate, since 1973… We offer Corsica's best local products throughout the seasons. In the 1990s, my parents owned l'Etable, a hotel-restaurant in Oletta, a small village in the north of the island of Corsica. We then moved to Saint-Florent, a little closer to the coast, where I started my own restaurant in 2003 with a brasserie-pizzeria, La Caravelle.
In 2013, I had the opportunity to buy La Gaffe, a well-known place, famous for its quality in Corsica; we then kept on working with exceptional products, alongside a friend, amazing chef and sommelier who owned Le Bouchon in Bastia, Christophe Giraud.
We are restaurateurs and activists for our local products, working with passion to promote our identity, enriched by its unique location in the heart of the Mediterranean sea, with flabbergasting landscape between sea and mountains and the history of an island that has been conquered by most great civilizations, birthing one of the greatest conqueror of all times, Napoleon.
Our restaurant is in the process of being certified Maître Restaurateur, referenced in the Michelin Red Guide with a bunch of grapes for our wine list, a plate for our quality cuisine and two forks for our standing. We are wholeheartedly slow-food: the star is what's in your plate, not who's in our kitchen! "We only do good with very good" is our philosophy. Our concept plays with high-end local products and outstanding wines, in a casual and warm atmosphere.
Adjacent to the restaurant, we have a wine bar annexe, Le Bistrot de La Gaffe, where you can enjoy the same wines as in the restaurant, in a more relaxed mood.
I work as Head Sommelier, with the help of a second during the high season, and have quite naturally highlighted our wine list, with an unusual 800 references and 600 bottles in the cellar, 200 for ageing, from Bordeaux's grands crus to old Corsican vintages that are almost impossible to find nowadays, with also great Riesling from Alsace, beautiful chenins from Loire, classical great Burgundy, international gems and amazing Champagnes for the enthusiasts.
All this love and work around wines have led me to be awarded for the most beautiful wine list in Corsica in 2014, and to win in 2017 a place amongst the most beautiful wine lists of France. Our cellar is semi-buried and shelters those wonders to age in optimal conditions. I designed this cellar with my own private collection, started more than 2 years ago. We offer a local and exhaustive list, with great sampling of the best of what is done elsewhere in the world, with special emphasis on France, great wine producer.
We organize events around wine on a regular basis: meetings with winemakers from all of France, winetasting around particular subjects, verticals from one winery at a time, winemakers' evening with food pairing, blind winetasting sessions, winetasting introductions, evenings to discover and appellation…
We care for our pricing, as we'd rather have a living cellar. We offer wine by the glass at affordable prices, to ensure the best food pairing for all of our customers, from the most sophisticated to the most adventurous. We work with Coravin, an Enomatic 8 and a argon conservation Eurocave that can fit up to 240 open bottles. Finally, we use Riedel decanters to oxygenate our wines, Lehmann's Le Grand Rouge 77 Jamesse to serve our reds, Le Grand Blanc 75 Jamesse for our whites and rosés, and for sparkling wines, Grand Champagne 41 flutes.