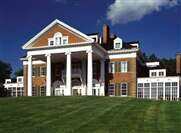 Opening in 1989 by William Bennett, an architect, and Mary Beaton, they developed their dream of a Country House Hotel in Ontario, Canada.
Once indulging in the delicious cuisine hosted with fresh produce, grown in abundance on the property, harmonize your dining experience their very own Sommelier, Faye MacLachlan who can recommend the perfect wine option for your palette from Langdon Hall's stupendous selection of around 1400 different wines from all around the world.
The fully trained staff can also assist in recommending the perfect wine from Langdon's cellar to accompany the guest's menu selection.