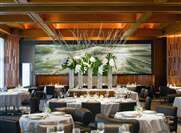 The wine is similarly outstanding, with award-winning sommelier Aldo Sohm overseeing the wine list at the restaurant.
Sohm joined Le Bernardin in 2007, the year he was awarded "Best Sommelier in America." The following year, he was voted "Best Sommelier in the World." Under Sohm's direction, Le Bernardin received the 2009 James Beard Award for "Outstanding Wine Service."
Overseen by Sohm, Le Bernardin's wine program focuses on pairings that complement the cuisine of Chef Eric Ripert. The wine pairing at Le Bernardin Restaurant, doesn't simply emphasize the wine or the food, it aims to transform them both and hoist the partnership to an impeccable pairing.
While the cellar includes a comprehensive selection of wines from the Old World regions of Burgundy, Rhône, Austria, and Germany, the 15,000-bottle collection is truly global, with 900 wine choices from 12 different nations, and vintages dating back to 1875.