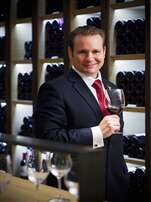 As the judges of the World's Best Wine Lists 2015 put it, as they once again bestowed a three-star award to Le Bristol, "this is an extraordinary range of French wines."
While that of course means it is strong in the great vineyards and names of Burgundy and the châteaux of Bordeaux, what is, at least for the judges at the World's Best Wine Lists awards, most compelling about Pelletier's list is the way it accords equal respect to the rest of the country's vignerons.
So yes the brilliantly compiled range of grands crus from the likes of Mugnier, Méo-Camuzet, and Trapet; the multiple vintages of Petrus, Cheval Blanc, and d'Yquem; and the assembled cuvées of Jacquesson, Philipponnat, and Salon are all very impressive. But so, too, is the depth and detail of the coverage of the Rhône, the Loire, Alsace, the Jura, and Jurançon's Clos Joliette. Un coup de coeur!