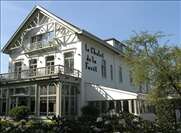 According to the great Catalan chef Ferran Adrià, Pascal Devalkeneer achieves "the perfect balance between traditional and avant-garde concepts" with his cooking at Le Chalet de la Fôret in Brussels. And this feeling of equilibrium—detected by Adrià in dishes such as pigeon breast prepared on glowing embers, beetroot assortment, and chocolate smoked with spices; and luke-warm squid spaghetti, oscietra gold caviar, and nori Leaves—is equally apparent on the elegant, Francophile wine list.
The meat of the list is an astute assemblage of the restaurant's favored French producers, with each of the country's producing regions well represented. Whether it's Domaines des Roches Neuves, François Cotat, and René Mosse in the Loire, Mark Tempé, Hugel, and Marcel Deiss in Alsace, or Clos Canarelli, Château Pibarnon, and Domaine de Trevallon in Corsica and Provence, the feeling is of personal picks—even in the well-thumbed restaurant regions of Burgundy and Bordeaux the selection feels fresh.
The same applies to the short but engaging international selection, where the choices from Switzerland, Austria, Slovakia, and Portugal, as well as Spain and Italy conclude a relatively concise—and well-balanced—list.