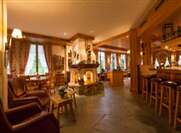 Grand is the operative word for the wine list at this famously welcoming and cozy hotel in Gstaad, with its magnificent Alpine views.
Built up over a quarter of a century, the cellar contains a remarkable 15,000 bottles, and some 900 different labels, while the beautifully presented list itself is printed on handmade Himalayan paper.
The choice is particularly strong in classic Europe, with a fine compilation of Bordeaux arguably the highlight. Featuring deep verticals of first growths and other big names, the Bordelais selection is a treasure trove of mature vintages, but the team also takes the trouble—as they do throughout—to throw in some affordable bottles (second wines and lesser-known châteaux), too.
Away from Bordeaux, other strengths of Le Grand Chalet selection include Burgundy, the Loire, Italy, Spain, and Portugal, with local wines very much not overlooked. The result is a long and engaging list to be enjoyed with the impeccably crafted but well-priced fine dining prepared by chef Steve Willié.