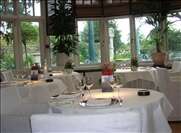 A celebrity chef he may now be, but Raymond Blanc has lost none of his focus in the kitchen at Le Manoir aux Quat' Saisons—his restaurant at the Oxfordshire country house hotel remains a benchmark for fine dining in the UK.
Known for sourcing many of his ingredients from the hotel's kitchen garden, Blanc's menu is unashamedly, classically French. And so, too, is the wine list, with around 600 of the 1,000+ bins sourced from Blanc's homeland.
Which is not to say that the list—assembled by Blanc, restaurant director Mourad Ben-Tekfa, and chef sommelier, Arnaud Goubet—has stood still in the years since Blanc opened the hotel in 1984. Featuring an extensive selection of organic and biodynamic wines (indicated on the list with green symbols), it is equally strong in French "regional" wines—what Blanc calls "Les Grands Petits Vins de France"—as Burgundy, Bordeaux, or the Rhône. There is a clutch of grower Champagnes (and English fizz; including Blanc's own cuvée made by Camel Valley) mixed in with the Grandes Marques; and the international selection is full of interesting choices. Engagingly presented, with quotes and notes from Blanc himself, it's one of the UK's best fine wine lists.