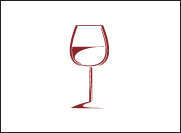 Le Volpi e l'Uva may not be the place to come if you're looking for the established stars of Italian wine, that cabal of Piedmontese and Tuscan producers that dominate so many wine lists both in Italy and overseas. As the judges at the World's Best Wine Lists 2015, there are no "big names" at this Florentine enoteca "at all."
If, however, you would like to sample some of Italy's most intriguing smaller producers, many of them working with organically or biodynamically grown fruit, and if you would like those wines to be fairly priced and tailored to a remarkable collection of "Italian and French cheeses, cured meats, and various crostini," then a visit to this much-loved institution near the Ponte Vecchio is very much recommended.
Featuring choices from Sicily to Sardinia, and from Sudtirol to Brunello, the list at Le Volpi e l'Uva is full of interest—and even offers a website for UK customers to order the wines once they've returned back home.