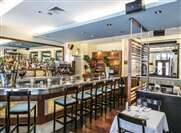 L'Echaude is a comfortable yet charismatic restaurant nestled within the heart of Quebec old town. It boasts a friendly and warm atmosphere combined with outstanding, modern French cuisine.
The fresh and light atmosphere lends itself well to all occasions, as does its versatile menu. The intimate restaurant offers an excellent daily menu of locally sourced foods, fresh from farm to table.
The restaurant presents an extensive wine list compromising over 500 different wines from thirteen countries.
L'Echaude themselves describe their wine list as, "a finely chosen selection of privately imported wines, for all budgets."
The wine list comprises a vast selection of local Canadian wines, such as the 2010 Essence Pinot Noir from 13th Street Winery, VQA Niagara.
The international wine selection covers an extensive French list, with an impressive collection of Californian wines to suit all budgets, and doesn't overlook Austria and Germany's aromatic whites. Wines are further categorized by region, from Languedoc-Roussillon to Côte-de-Beaune.
Wine varieties range from a modest Cortes de Cima, Courela, Vinho Regional Alentejano, 2015, up to more speciality red from Rive Gauche, such as Château Latour, Pauillac 1er Cru classé, 1995, or Château Margaux, Margaux 1er Cru classé, 1995.