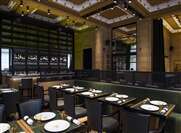 Les 110 de Taillevent takes its inspiration from the famous Paris restaurant Le Taillevent, which opened in 1946, and has been sourcing excellent wine for its guests ever since.
Eight pages in Les 110 de Taillevent London are dedicated to white Burgundy, paying homage to Taillevent's founders, who were from the region. With 110 wines by the glass, and 1100 wines by the bottle, head sommelier Christopher Lecoufle is making waves with his carefully curated wine menu that takes center stage.
The wines are categorized by price, and four different styles of wine are paired to each plate, available by 70ml or 125ml, allowing guests to explore and discover different angles to a dish. With such an extensive list, this technique is perfect for the wine novice.
Les 110 de Taillevent entered the World's Best Wine Lists for the first time and has been awarded the highest accolade of three stars.