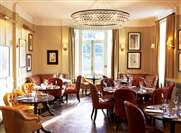 A modern take on the five-star country house hotel experience, Lime Wood in the New Forest pushes all the right buttons for "foodie" (their word, not ours) guests.
The menus are based on ingredients from local suppliers, and in some cases foraged, while the culinary philosophy at the Hartnett, Holder & Co restaurant (named after chefs Angela Hartnett and Luke Holder) is summed up as "English dishes with a respectful nod to the seasons and to Italian culinary ideologies. There's even a food bar offering raw and cured dishes."
The wine list is similarly modern and adventurous, in form and content. It's arranged by groups of grape varieties, with the groupings based on the region in which those grape varieties originated: Rhône or Loire Valley, for example, or Austria and Hungary.
It takes a bit of getting used to, but as the judges at the World's Best Wine Lists said, it does get you "thinking about styles not just regions."
As for the wines themselves… well this is a brilliantly wide-ranging collection, full of interesting choices from all over the world, from the old-vine Carignan of the Garage Wine Company in Chile's Maule Valley, to Tiefenbrunner Lagrien from Italy's Alto-Adige, and with many on-trend biodynamic and organic options.