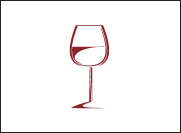 Set in the Lincoln Center, its dining room offering views of the Henry Moore sculpture and the Center's famous reflecting pool, Lincoln Ristorante is one of New York's smartest Italian restaurants. Fresh ingredients, many of them sourced from local markets and suppliers, are cooked by chef Jonathan Benno's team using "authentic Italian methods and spirit," leading to dishes such as polenta con musetto and tagliolini con granseola e ricci di mare.
Authenticity also seems to be the watchword on wine director Aaron Von Rock's wine list, which is almost exclusively Italian. But as the judges at the World's Best Wine Lists noted, that doesn't mean the Lincoln list lacks for variety.
It may be "99 percent Italian," but it has great "breadth and depth" of choice, with bottles covering the length of the peninsula, from Petite Arvine in the Alpine Valle d'Aosta on the border with France to Pietradolce's Etna Rosso from Sicily, via a fine selection of the historic big guns of Tuscany, Piedmont and the Veneto—while a judicious choice of grower and Grande Marque Champagne, a rare French selection, joins the likes of Ca' Del Bosco Franciacorta and Adami Prosecco on the menu of vini spumanti.