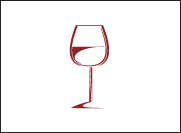 Star chef Giorgio Locatelli's Michelin-starred Mayfair outlet remains a standard-bearer for authentic fine Italian dining in London.
With dishes such as char-grilled quail with liver crostino and apple balsamic dressing, or tubular pasta with red gurnard, black olives, and almonds, Locatelli's is a cooking style that mixes elements from across Italy.
And the wine list performs a similar trick, offering, in the words of the judges of the World's Best Wine Lists 2015, "an extraordinary range within Italy, featuring very interesting, unusual wines as well as classics, in a pleasing range of vintages."
That means a varied set of reds (as well as the more usually seen whites) from Friuli alongside the established likes of Amarone in the north east; Grignolino and Fresia as well as a fine collection of Barbaresco and Barolo Nebbiolo in Piedmont; and plenty of choices from both Sardinia and Sicily off the mainland.
Complemented by a neat selection of Italian-inspired wines from around the world (from Argentine Barbera to Australian Dolcetto), Locanda Locatelli is one of the finest Italian wine lists in Europe.