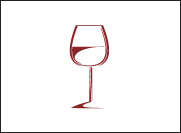 Loft Eatalicious is a Beijing restaurant with a great name, some fine Italian food, and—according to the judges at The World's Best Wine Lists 2015—a "sensational" wine list.
"It's very rich in terms of breadth of regions and depth of producers with young and mature wines available," the WBWL said, and it earns "extra points for having a reasonably impressive list of half-bottles available, which doesn't just help to encourage responsible drinking, it also allows one to sample more throughout the dinner."
And who wouldn't want to sample the delights on offer at Loft Eatalicious? From a core of French classics (including many mature vintages) in Champagne, Bordeaux, Burgundy, and the Rhône, to fine picks from less-travelled paths of the wine world such as Greece, Uruguay, and China, the list offers a vivid snapshot of the best of the contemporary global wine scene, from Mount Difficulty Roaring Meg Central Otago Pinot Gris to Jacquesson Millésime 2000, from Maison Pierre Overnoy, Arbois Pupillin, Savagnin 2007 to a flight of La Spinetta Vigneto Campe Barolo.