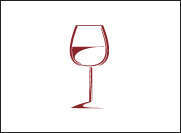 Making the most of the freshest local ingredients and drawing on a range of influences—mostly Europe and the Mediterranean, with a touch of the Orient—Ho Chi Minh City's Lu Bù is one of Vietnam's best modern restaurants.
The eclectic menu moves from zucchini, ricotta, and mint fritters with soured cream and lemon to seared swordfish steak with warm salad of baby potato, green beans, tapenade, and anchovies.
The wine list is similarly wide-ranging despite also being impressively succinct. Arranged by style (such as "white, zesty, and fresh" or "red spicy, earthy, and gamey") it manages to travel the world in its 50 bins, with smart choices ranging from JJ Prüm in the Mosel to New Zealand's Felton Road and Bordeaux's Lacoste-Borie.
The result is "a great example of a short wine list," said the judges at the World's Best Wine Lists 2015. "Witty and well edited, there is something for everyone."