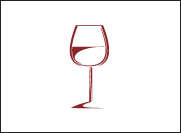 "Vinothek Disco-veries" – is the award-winning wine program offered at Lufthansa, the largest German airline, and accompanies gourmet cuisine served in First Class and Business Class.
The wine programme is selected by 'Master of Wine' Markus Del Monego. Del Monego curates a selection of exceptional wines every two months, and travels the world exclusively for Lufthansa, in the quest for the finest treasures of the wine-world.
In the catering sphere, Lufthansa has assumed the role of global ambassador for the best of German wines. These are chosen at blind tastings attended by Del Monego, and other recognised wine experts. Each year, Lufthansa offers around 40 vintages hand-picked from more than 30 German vineyards on long-haul routes alone. Suggestions for the wine selections are received from trade journals, as well as the Internet, trade fairs, wine tastings, in conversations with experts, and other recommendations.