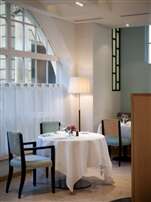 Occupying several floors of the former Reuters building in London's Fleet Street, and named after the great British architect who designed the building's façade, Lutyens is the work of one of Britain's most influential restaurateurs, Sir Terence Conran. Taking in two wine bars and two restaurants, as well as a private members club, the venue offers "modern European, highly seasonal food with a subtle Nordic influence" from Swedish head chef Henrik Ritzen. It also offers one of the very best wine lists in London.
Very clearly and (as you would expect from Conran) stylishly presented, the Lutyens selection opens with a brilliantly diverse, French-dominated by-the-glass program that moves from D Laurens Marcillac to Rolly Gassmann's top Alsace Riesling.
The full-bottle list, meanwhile, is equally strong in classical and regional France, with a broad spread of prices, styles, and bottle formats, and with plenty of strength in depth in Austria, Germany Italy, and Spain, as well as a number of intriguing choices from the New World and emerging wine nations such as Japan and the various countries of the Eastern Mediterranean.