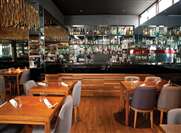 In Japanese, Maido means "welcome" and that's the overwhelming feeling you get when eating here. The room is decorated stylishly with coloured ropes emulating the Japanese flag; this restaurant is perfect for special occasions and treating yourself. The head chef, Mitsuhara Tsumura, serves up an inventive, colourful tasting menu of Peruvian-Japanese bites alongside some delicious à la Carte options and a classic sushi counter. A standout dish is definitely the Cau Cau dim sum with sea snail.
Maido has risen to number 1 in Latin America's 50 Best Restaurants 2017 and Tsumura has recently opened "Sushi Pop", a casual sushi chain in Lima with delivery options on top of opening restaurants in Chile and Macau.
Maido's wine list is commended for its breadth of international wines, a rarity for Peruvian restaurants. Some highly regarded choices include the Schubert Pinot Noir from New Zealand and the Quintarelli white.