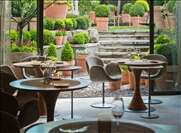 Long identified as one of France's greatest restaurants, the Troisgros family's three-Michelin-starred operation in the city of Roanne in the eastern Loire is run by star chef Michel Troisgros and his wife, Marie-Pierre. Under Michel's direction, the restaurant has maintained its reputation for exquisitely innovative French cooking established by his father and uncle, featuring a daily-changing menu based on the ingredients Michel and his team find in the local markets.
The wine list is an impeccable arrangement of classical French wine featuring the best of Burgundy, the Rhône, and many other French regions.
A sample tasting menu in June gives a flavor of the restaurant's food-and-wine philosophy: Domaine Jamet Fructus Voluptas Côte-Rôtie 2012 matched with young pigeon and peanuts and a selection of fine cheeses; Domaine Trimbach Gewurztraminer Vendanges Tardives with chocolate and cardamom primavera, rhubarb, and sweet Pepper; or Domaine Chapoutier Chante-Alouette Hermitage 2011 with oyster, fennel, and anise. One of France's greatest restaurants, Maison Troisgros is also one of the greatest places in France to drink wine.