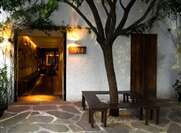 Maní is in safe hands with Helena Rizzo, named Latin America's and World's Best Female Chef by Restaurant Magazine in 2014. In fact, Rizzo is set to feature in Netflix cooking show, The Final Table, premiering in Fall 2018. The restaurant itself is named after the indigenous Brazilian God- a beautiful young woman who, according to legend, mysteriously died but was later reincarnated in the form of plants. A quaint little wooden house serves as the restaurant's home,incorporating a beautiful tree-lined outdoor courtyard.Guests can sit here or inside, where they can catch a glimpse of the dynamic cooking taking place and the meticulous care given to plating up.
The food is a Brazilian-European fusion, and Rizzo brought out a cookbook in 2015 filled with some of Mani´'s best recipes, including the banana with manioc flour, edamame and fish stock.
The sommeliers are attentive, and the original wine list is full of surprises, includinghelpful symbols for organic and biodynamic amphora production methods.