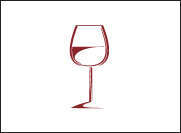 The eponymous second restaurant of acclaimed chef Martin Wishart (he has another Michelin-starred place in Edinburgh's Port of Leith) certainly has a fine setting: right on the shores of Loch Lomond.
And with Wishart's characteristically elegant approach based on superb ingredients, many of them local, the food—featuring dishes such as saddle of Borders roe deer, butternut squash, black salsify, polenta, quince and ras el hanout sauce or marinated Orkney scallop, radish salad, crème fraiche, keta, and ponzu—is also never less than superb.
Completing the picture is one of Scotland's finest wine offers, a list that the judges at the World's Best Wine Lists described as "a very nice selection" that is strong in the classics of Europe but which also has plenty to offer from the rest of the world.
Cleanly arranged by region, the list is full of intelligent selections. Whether it's a set of mature vintages of Château Lafite , a tour of the emerging regions of Spain, or a diverse collection of dessert wines, there's something for everyone.