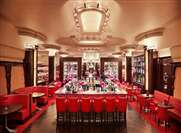 A pitch-perfect recreation of the classic American steakhouse in London's Soho, Mash stakes, as it were, its claim on the British capital's diners with an array of high-quality meat, whether dry-aged Danish, Wagyu, Uruguayan Hereford, or corn-fed American beef.
This carnivore's delight of a menu is joined by a stellar collection of American wine—a collection, as the restaurant's website rightly notes, that is one of the finest of its kind outside the USA.
A roll-call of top producers (from Harlan to Dunn, and from Dalle Valle to Screaming Eagle), the Mash American list is impressive for offering mature vintages, including several verticals, and for covering Oregon, New York State, and Washington State in depth as well as California.
But, as the judges at the World's Best Wine Lists 2015 said, while the focus on the USA is "appropriate" it is by no means the list's only strength. "There is an impressive range in the rest of the world too, with top producers and a range of vintages and good pricing throughout."