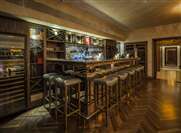 As World's Best Wine Lists 2015 senior judge Ch'ng Poh Tiong put it, with tongue only slightly in cheek, "any place that has a wine list where the official religion forbids you from drinking has to be applauded!"
But the wine list at Bahrain's The Palace Boutique Hotel would be worthy of a three-star accolade no matter where it was located.
It's the intelligence of the choices that really impressed Poh Tiong and the rest of the WBWL judges. From the excellent Cava of Juve y Camps and the fine South African Cap Classique sparkling wines of Pongrascz, to top Californian wines from La Jota, Dominus, and Joseph Phelps and classic Super Tuscans Tignanello, Ornellaia, and Sassicaia, the list is a hymn to the joys of international fine wine.
Ultimately it's a list that offers many fine accompaniments for the high-skill, southern European cuisine of Susy Massetti at her eponymous restaurant within the hotel.