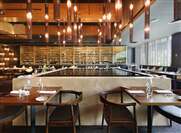 The contemporary archway of this dining venue leads to a light-filled elegant dining area where ingredient-led dishes place the focus on the local produce that's celebrated here in Melbourne. By collaborating with local producers, the chefs here source premium seasonal ingredients such as oysters from New South Wales, sustainable fish and seafood from the nearby coast, and grass fed beef from local suppliers.
This food is served alongside wines from an award winning wine list featuring over 700 varieties. Sourced from Australia and around the world, many premium labels are available by the glass, owing to the restaurant's Coravin wine system. In addition to individual bottles, the wine list offers a series of interesting and playful wine flights, from 'Aromatic All-Stars' to 'Giants of the Australian Wine World', and 'The Italian Job'.
With its highly commendable wine list Meat Fish Wine Melbourne has been awarded a prestigious Jury Prize in the 2017 World's Best Wine Lists.