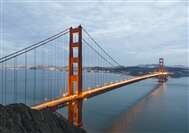 World's Best Wine Lists Jury Prize
American wine is in the midst of what Francis Percival, senior judge at the World's Best Wine Lists awards, calls an "important aesthetic debate" centered on the issue of ripeness. The fashion for big, bold ripe flavors that dominated California in particular in the 1980s and 1990s has been challenged by the burgeoning group of producers operating under the "In Pursuit of Balance" umbrella, who create lighter and, in their view, more elegant wines.
This debate—which is often presented as a Manichean, either-or choice between vinous good and evil—is given a rather more mature spin on the list at Michael Mina in San Francisco, a spin that has earned the three-star wine list a special Jury Prize. As Percival explains, Michael Mina sommelier Rajat Parr "dramatizes the debate over whether producers should chase balance or opulence. And he does it in a way that wouldn't alienate a customer who would want to go out and drink Harlan.
"This is a fundamental debate that is communicated to a wider audience in an accessible way. The list does it superbly by dividing each part of the New World list into sections for wines inspired by classic Old World regions (interestingly Chardonnays from the Jura are listed in the same section as those from the likes of Sandhi and Arnot-Roberts), and another for wines celebrating the 'Opulence of the New World'."
In short, this is a restaurant where customers are offered the best of both vinous worlds—all accompanied by executive Chef Ron Siegel's artful mix of Japanese and French culinary influences.