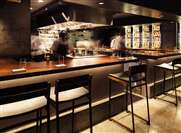 At Ko, guests are served a tasting menu that uses primarily local and seasonal ingredients and draws from the culinary team's diverse knowledge of different cuisines.
In 2018, Ko opened its a la carte bar which offers a constantly-rotating menu.
Ko holds two Michelin stars, which it has maintained since 2009.
In 2015, Ko was awarded three stars by The New York Times, and in 2017, Ko was ranked No.
58 on the extended 'World's 50 Best Restaurants' list.
The bar at Ko, which opened in 2018, was also awarded two stars by The New York Times.
For its wine program, the Ko team, led by beverage manager Arthur Hon and Momofuku beverage director Jake Lewis, features benchmark wines of the world, and of great age, with a strong emphasis on the people who made them.
It's solid and draws on the best global producers.
At the heart of the wine program is the strong ethos to ensure the best bottles from the restaurant's most valued producers are properly cellared and delivered to customers at the lowest possible price, while preserving a high standard of wines.