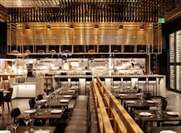 Momofuku Las Vegas is located in The Cosmopolitan hotel and serves a constantly evolving menu that draws influence from the US, Korea, and Japan.
A variety of dining styles are available at Momofuku Las Vegas, including afternoon and late-night bar menus, as well as large format and private dining.
The beverage program focuses on the best wines of the world, with a leaning toward the most upcoming and exciting wines available in Las Vegas.
They encourage guests to step out of their comfort zones to pair new wines with Momofuku LV's creative dishes, and experience left-of-center cocktails with unusual ingredients.