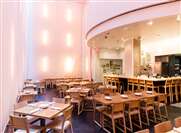 Momofuku Má Pêche is located in Midtown New York City, making it easily accessible from the Theatre District, MoMA, Central Park, and many more favored New York locations.
The menu at Má Pêche offers innovative and elegant dishes that, at the time of writing for its evening menu, include Jonah Crab Claw with yuzu kosho mayo, Roasted Diver Scallops with carrot, citrus, and brown butter, and a Kimchi-Bacon Burger with American cheese, fries, special sauce, and the option of a sunny side egg, to name just a few of the gourmet plates; in addition to a selection of cheese such as Winnimere and Fourme d'Ambert.
At Má Pêche, guests may choose from an assortment of à la carte offerings. The restaurant also serves a large format meal, Pork Rack Char Siu, which serves 3 – 12 for lunch, and with dinner by reservation only.
Má Pêche's drink menu highlights great mixed drinks features classic cocktails and a well-rounded wine list. The wine list highlights 56 choices, named after the street on which the restaurant is located and is inspired by Midtown's historic relationship with creativity and collaboration. The wines share a theme rather than a region of origin or flavour profile. Handpicked by the team at Momofuku Má Pêche, the wines were all produced by daring growers challenged regional norms in their pursuit for quality.
The 56 wines selected, reflect either a creative and pioneering approach to winemaking or represent producers who have impacted winemaking on a broader scale.
The wines are sorted out one after another in order by maker. Accordingly, every container is accessible for $56.