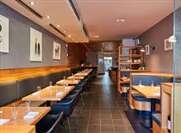 Momofuku Nishi is located in Manhattan's Chelsea neighborhood.
Executive chef Nick Tamburo creates Italian-inspired dishes using unexpected techniques and ingredients.
In addition to a la carte pasta and meat and fish offerings, the menu also features a house-made pasta tasting with an optional wine pairing.
Nishi's dynamic beverage program features seasonal cocktails and an expanded wine list led by Beverage Manager Andy Wedge, with input from General Manager Emma Conroy and direction from Momofuku beverage director Jake Lewis.
The wine list has expanded to showcase more than 220 labels, with a focus on producers that offer new perspectives on Italian varieties grown in both Italy and the new world.
The list also highlights a page of 'seasonal obsessions,' showing off wines that are lesser-known or harder to find.
For example, they most recently showcased barolo and nerello mascalese.