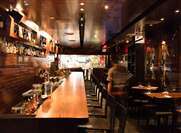 Momofuku Ssäm Bar opened in New York City's East Village in 2006.
Executive chef Max Ng serves a diverse mix of dishes and large-format meals that reflect his Singaporean background and Ssäm Bar's New York roots.
Ssäm Bar's wine list focuses on highlighting underdog grapes, namely Riesling and Gamay.
The team, led by beverage manager Charlotte Berdensey and Momofuku beverage director Jake Lewis, believes that these grapes can create some of the greatest wine in the world, when put into the right hands.
The producers Ssäm Bar features showcase what these grapes can do and the diversity they bring to the table.
In addition to underdog grapes, Ssäm Bar's wine list includes benchmark wines from around the world.