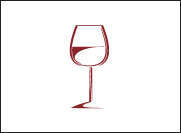 Star chef Angela Hartnett's Italian-inspired Mayfair restaurant Murano earned a Michelin star a mere four months after opening in 2008, and it retains its place among the elite of London's restaurant scene.
The exceptionally stylish menu includes such creative takes on the Italian template as octopus, cod cheeks, grapefruit, tomato, and chili; beef anolini, broth, black truffle, and parmesan; and beetroot, radicchio, sweet potato, and spiced yoghurt.
The wine list, meanwhile, complements the food with a strong Italian selection that roams across the regions to include the classics of Campania (Silvia Imparato Montevetrano 2010) and Abruzzo (Emidio Pepe Montepulciano d'Abruzzo Riserva 1983) as well as the stars of Piedmont, Tuscany, and the Veneto.
This is joined by an equally impressive selection from elsewhere in Europe, with the judges at the World's Best Wine Lists 2015 being particularly impressed by the mix of grower and Grandes Marques Champagnes and a "very strong, diverse" by-the-glass program.