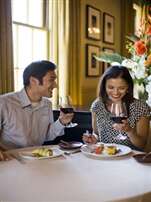 With its location overlooking the Golden Gate Bridge in Cavallo Point, the view from Murray Circle is famously spectacular. So, too, is the wine list put together by wine director, Jamie Harding, and sommelier, Monica Zanotti: a stunningly complete overview of California wine, designed to accompany the "modern Northern California" cuisine on a menu designed by executive chef Justin Everett.
As Harding and Zanotti put it—accurately in our judges' opinion—in the wine list's introductory page, the "list celebrates the storied history of wine in California, and presents a vision of where it is going—from the legendary producers that laid the foundation, to the cult wineries that drive the mystique, to the tiny production wineries from every corner of the State that are pushing the envelope of quality."
But if the range of mature vintages from an A-to-Z of the best names in California is the restaurant's principal draw for the wine-lover, the balance of its 2,200 bins, covering 25 countries, is no less impressive in one of California's foremost wine-focused restaurants.