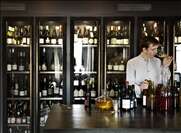 Noma is one of those once-in-a-generation restaurants that change the way we think about food. Like El Bulli before it, chef René Redzepi's Copenhagen kitchen is experimental in approach, challenging in its use of ingredients, aiming at both heart and head, but ultimately providing a sensual experience.
Fiercely local and seasonal—Redzepi eschews Mediterranean ingredients such as olive oil and is famed for foraging in nearby forests and on the seashore—the 20-course menu changes frequently, providing a stern challenge for the sommelier seeking compatible wine matches.
But it's a challenge that is successfully met, in a cleanly presented list that fits with the restaurant's sustainable, small-scale ethos by opting for what the judges at the World's Best Wine Lists 2015 describe as an "anti-label" approach. "There is barely a well-known producer in sight," the judges continued, "on what is a rebellious, exciting, individual list."
Instead there is a focus on small European producers, many of them organic, biodynamic, or "natural." Among the highlights are a superb collection of grower Champagnes, one of the world's most extensive arrays of Jura wines, and fine selections from Germany, Austria, and Burgundy. Like the restaurant, it's a quietly creative triumph.