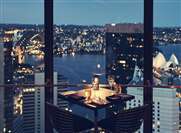 Set on a circular space on the 47th floor, O Bar and Dining turns constantly to reveal an ever-unfolding, 360-degree panorama of Sydney – a stunning place to enjoy fine food and adventurous cocktails.
Described as the ultimate sensory experience, O Bar is a place that's far above the ordinary, with food at its heart and Sydney at its feet. Led by and owner Michael Moore and Head Chef Darren Templeman, the menu presents an unexpected journey that is as unique as it is delicious, and utilizes creative cooking techniques to reveal the very best in the freshest ingredients. Signature dishes are flash-seared on a Robata grill at temperatures over 500 degrees, allowing vegetables to caramelize and soften while meat becomes charred and crisp, delivering precise and clean flavors.
The Lounge Bar features a collection of over 400 rare artisan spirits meticulously developed by the award winning bar team. Alchemy with top-shelf drinks and fresh kitchen produce allows for a seasonal menu of cleverly crafted signature cocktails.