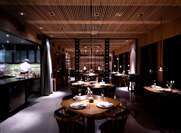 Oaxen Krog is lose to nature whilst almost in the middle of town in a place with a historical and industrial past.
In many ways identical to its origins and philosophy from Oaxen Island in the Stockholm archipelago where it all began.
They follow the variations of the seasons and explore the wild herbs that grow locally on Djurgården.
They choose unique produce, from the closest neighbouring areas to the Nordic region's ultimate limits, where quality, taste, sustainable agriculture and humane animal rearing go hand-in-hand.
Nature is the inspiration that shapes their thoughts when creating the menu.
They serve old world wines from Europe which are sourced from small, carefully selected vineyards that share in their philosophy.