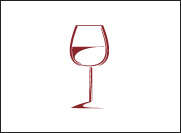 While the cuisine is inspired by southern Italy, local produce is very much at the heart of Oenotri's philosophy. The Napa restaurant even has its own farm, a 4-acre "culinary garden" from which it sources many of its ingredients, as well as baking its bread and making its 20 different kinds of salumi in house.
The Cal-Ital feel extends to the imaginative, and comprehensive, wine list, which is almost exclusively drawn from the USA and Italy. It's a list that finds space for the quirky (Casale Del Giglio Petit Manseng, IGT Lazio or Forlorn Hope St-Laurent, Ost-Intrigen, Carneros) and the avant-garde (Radikon Chardonnay/Friulano; Scholium Project Verdelho, Naucratis) along with the big-name classics of California Cabernet, Barolo, Barbaresco, and Chianti.
The judges at the World's Best Wine Lists were also impressed by the varied by-the-glass program, which gives diners the chance to experiment with a broad range of Italian varieties (Arneis, Aglianico, Nero d'Avola) as well as top-flight wines such as Peter Michael Les Pavots, Knights Valley California 2010 and Giacomo Borgogno Riserva Barolo 1971.