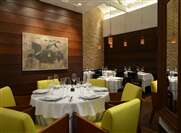 Pioneering Rio de Janeiro restaurant Olympe was among the first in Brazil to integrate traditional local ingredients into high-technique, French-inspired classical fine dining.
Today chefs Thomas and Claude Troisgros remain true to Olympe's founding ideas, with such Franco-Brazilian dishes as foie gras and fresh heart of palm terrine, sugar cane "rapadura," and fleur de sel; or roasted quail filled with yucca flour "farofa" and raisins, Napa cabbage confit, sweet and sour sauce.
The wine list performs a similar trick, offering the same impeccable selection of leading classical and regional French wines that customers would expect from a Troisgros restaurant, but combined with international selections that take in many fine South American bottles including several from the domestic Brazilian scene.
It's a selection that includes such lesser-spotted French gems as a house Gamay from the Troisgros' family friend Robert Sérol back in the home of their original restaurant in Roanne, France, and Négrette from Fronton by Diane Germain, alongside Viña Leyda Pinot Noir from Chile and top Brazilian Casa Valduga Storia Merlot 2008.