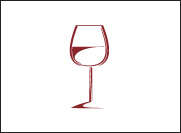 As the restaurant's wine director Steve Ernst says in his introduction to his list, wine has become something of an obsession at San Diego's Pamplemousse Grille. So much so, that "what began as a 35-item, ten thousand dollar investment has blossomed into over a 2,100-item, million dollar passion."
It's a passion that was evident to the judges at the World's Best Wine Lists 2015 as they turned the pages on this deeply impressive list. The strengths here, as Ernst suggests, are classic France and the USA, the finest producers from both countries represented in a remarkable array of older vintages, including many verticals from the likes of DRC or Colgin.
But these are joined by a number of other imaginative selections, from Argentina, Australia, Spain and more, which together offer plenty of scope for accompanying the "casual yet elegant" food of chef-patron Jeffrey Strauss.